ESMI-2 Cerebral Droid

Basic Information
Place of origin
Harbitros
Year of creation
2065
Purpose
Task completion, electronics administration, monitoring, logic algorithms
Production History
Manufacturer
Ekaj Autonetics International
Number built
est. 5,460 (as of 2085)
The ESMI-2 Cerebral Droid (Electronic Specialist and Manufactured Intelligence version II Cerebral Droid), or Market Brainbot, is the market consumption successor of the original ESMI Cerebral Droid. It was created by Ekaj Autonetics International and the Harbian Eclipse Agency after their ESMI-1 experiments were overwhelmingly successful. The original purpose of the ESMI-1 was to see how sophisticated and responsible a bio-engineered human brain within a robotic body could be.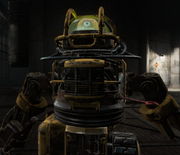 To verify the efficiency of the ESMI-2 brainbots, Ekaj Autonetics International manufactered 100 to be sent out to various organizations and companies that opted into beta testing them. The beta test for the ESMI-2 lasted from 2065 until 2070, when results were collected from all those who participated. The data gained through this five-year long test indicated that the ESMI-2 droids were clearly ready for commercial availability, and thus a total of 1,000 were produced. By 2073, the quantity of ESMI-2 droids was at zero, and Ekaj Autonetics began regularly mass-producing them since.
Ad blocker interference detected!
Wikia is a free-to-use site that makes money from advertising. We have a modified experience for viewers using ad blockers

Wikia is not accessible if you've made further modifications. Remove the custom ad blocker rule(s) and the page will load as expected.