Jasper Morbon
Date of birth
Penulber XVI, 1984
Date of death
Aeostril III, 2057
Nationality
Harbian
Family
Henry Morbon (Father)
Lisa Morbon (Mother)
Theresa (Salansi) Morbon (Wife)
Charlotte Morbon (Daughter)
Place of residence
Chamberly, Arcadia, Harbitros
Ostlyn, Culberne, Harbitros
Occupation(s)
Lex Talionis operative, formerly HEA field operative, formerly Legionnaire mercenary
Yearly income
est. $730,000 (by 2057)
Gender
Male
Race
Friivian
Height
1.79 meters
Handedness
Ambidextrous
 Jasper Morbon was an HEA operative and formerly a Legionnaire International employee who was revered as one of Harbitros' most skillful and successful agents. He was also responsible for stopping several corporate wars and eliminating various high-target enemies of his nation. 
Early Life
Jasper was born in Jericho, Brimwell, on Penulber XVI, 1984. His father, Henry Morbon, was a lawyer. However, on Junith VII, 1993, his father was assassinated in the Jericho Court of Law by a bitter individual, amidst a civil trial. Growing up in the firearms capital of the world, Jericho -- also sometimes nicknamed Bullet City -- Jasper took a great interest in firearms, and spent a large amount of his upbringing training with them and expanding his knowledge of them. When his father was gunned down at age nine, Jasper made sure to train his mother how to also use a gun -- for protection.
Legionnaire International
-- putting his exerptise on firearms to use. From 2003 to 2016, Jasper was a highly commemorated and well-respected employee of Legionnaire International -- and was constantly contracted by both domestic and foreign entities. However, several of his contractors were large corporations who utilized him to fight in petty corporate wars with competitors. He also was contracted to fight in the
War in Southern Askersia
, and to carry out various missions by allied contractors elsewhere on Azium.
Operating Under the Harbian Eclipse Agency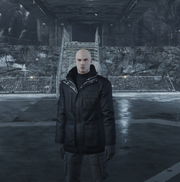 In the summer of 2016, Jasper Morbon was approached by the
Harbian Eclipse Agency
, offering to hire him as an active field agent. They had chosen Jasper, upon reviewing his long list of achievements, skills, and successful contracts whilst in Legionnaire International -- as well as his knowledge and involvement in several corporate wars. With his impeccable knowledge and finesse with firearms, and his experience in stealth and quick movements, Morbon was designated to be assigned specialized missions -- such as infiltrating enemy or suspicious organizations, assassinating high-profile targets, and dealing with corporate wars and other domestic and abroad disturbances to the interests of the Corporatocracy of
Harbitros
, and the agency itself.
Ad blocker interference detected!
Wikia is a free-to-use site that makes money from advertising. We have a modified experience for viewers using ad blockers

Wikia is not accessible if you've made further modifications. Remove the custom ad blocker rule(s) and the page will load as expected.