Monte Montero
Date of birth
Penulber XXIII, 1993
Nationality
Pomeranian
Harbian
Family
Silverio Montero (Father)
Gisèle (Paquin) Montero (Mother)
Place of residence
Ostlyn, Culberne, Harbitros
Occupation(s)
Founder and leader of the Sons of Ulciscor, former HEA field operative
Yearly income
est. $100,000 (as of 2071)
Religion
Fatalism
Gender
Male
Race
Larusian
Height
1.78 meters
Hair colour
Dark brown
Handedness
Right-handed
Monte Montero
, also known as
Agent M
and
Agentem
, is a special operative for the
Harbian Eclipse Agency
. He was born in the Isteroxean country of Azuquista, but moved to
Harbitros
along with his parents in the late 1990s. As Monte grew up, his father was secretly an Eclipse agent. In the mid-2010s, however, Silverio -- Monte's father -- was killed whilst on a mission. This led Monte to follow in his father's footsteps and join the HEA.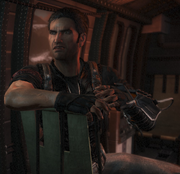 Since joining the Harbian Eclipse Agency, Monte has proven to be a talented and useful asset to the Corporatocracy. In the 2020s, Monte was dispatched to deal with the mysterious Enigma Brink region within the Zocuric Ocean -- only to discover that it was caused by a rogue Soviette cell, of which he led to its destruction. Another major mission for the HEA occurred in 2033, when Monte was tracking down the resurfaced Soviette cell that caused his father's death. He and his retired mentor, Ted Weston, endured Operation Housecleaning and eventually terminated all leading members of the Soviette cell. In 2046, Monte Montero was dispatched to the small Isteroxean nation of Cruale, to aid in the destabilization of its government.
On 2054, Monte Montero was tasked with eliminating a group of Karnali scientists who had supposedly been developing a bioweapon in a remote facility within the nation of the Karnal Isles. Upon enacting the HEA's operation, he discovered that the scientists were only using a custom gas that gave flora cancer, so that they could study it in hopes of curing cancer in humans -- the gas was toxic to humans, which is what the informant had failed to mention. This event, later known as the Undarska Research Team Massacre, scarred Monte and caused him to resign from the Harbian Eclipse Agency, as he deeply regretted his action in the botched operation. Shortly after his own resignation, Monte vanished without a trace. For over a decade, he remained MIA. In 2071, however, Monte Montero made himself known again. Between the time of his unknown whereabouts, Monte founded the self-proclaimed vigilante group the Sons of Ulciscor.
Ad blocker interference detected!
Wikia is a free-to-use site that makes money from advertising. We have a modified experience for viewers using ad blockers

Wikia is not accessible if you've made further modifications. Remove the custom ad blocker rule(s) and the page will load as expected.