Norman Chessler
Date of birth
Threshannual X, 2023
Date of death
Threshannual X, 2083
Nationality
Machinish
Place of residence
Raritag, Machinam
Occupation(s)
Prezidant of Machinam, founder and former leader of the Chessler Unification Organization
Yearly income
est. $5.3 million (by 2083)
Gender
Male
Race
Friivian
Height
1.73 meters
Hair colour
Black
Handedness
Right-handed
 Norman Chessler was the leader of the Chessler Unification Organization, a large organization consisting of paramilitary and market divisions. The goal of both Norman and his organization was to reunify Machinam during the
Machinish Civil War
, and to then become the leader of his homecountry. In 2056, Chessler succeeded in his goals and became the successor of Emil Briar, finally filling the prezidant vacany that had endured for seven years.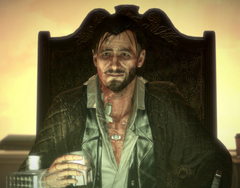 Since becoming leader of Machinam, the economy has stabilized and has steadily been increasing in GDP every year since 2063. More foreign companies and brands have also begun being imported into Machinam due to Chessler's more capitalist economic plan. 
On his birthday in 2083, Norman Chessler was assassinated by Jack Boxer, and he was succeeded by Al Mano Union leader Jacen Mano.
Ad blocker interference detected!
Wikia is a free-to-use site that makes money from advertising. We have a modified experience for viewers using ad blockers

Wikia is not accessible if you've made further modifications. Remove the custom ad blocker rule(s) and the page will load as expected.