The Lunar Blood Fest

Basic Information
Date
From Wintraend XVII to Wintraend XXVIII, 2039
Location
El Tempus, Harbitros
Celebrations

•Activities

•Ceremonies

•Music Concerts

•Expositions & Lectures
The Lunar Blood Fest of 2039 was a large group of festivals in Harbitros that celebrated the Time of Blood Moons -- a few days in which the Moon appears to be red. Individuals from all over Junope, including many national leaders and celebrities, traveled to attend the festival. Each festival starts as Harbian Evening begins, and ends at the break of dawn. The Time of the Moons lasted eleven days, and during those eleven days several musical concerts, lectures and speeches, and activies took place -- including a concert by the world-famous Harbian folk rock band Holmford and Heirs.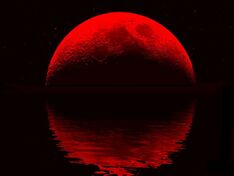 Ad blocker interference detected!
Wikia is a free-to-use site that makes money from advertising. We have a modified experience for viewers using ad blockers

Wikia is not accessible if you've made further modifications. Remove the custom ad blocker rule(s) and the page will load as expected.